Nice, Capa, Elsa and Matisse: Four journeys to southern France's Nice: over a period of nine years someone tries to buy a foto that shows the elderly Matisse while drawing. Who was the fotographer of the picture? Why does it become expensiv and more and more expensiv with each journey to Nice? Who actually was that woman that shared these times in Nice? And has it got to do with that mysterious foto that the lover became close friend, than wife, and after all ex-wife of our traveler?
Claire / Art Atoms, Edges, Cuts (»Claire / Kunstatome, Kanten, Schnitte«): Some one sitting in a café, waiting for his beloved. She is an art historian in a famous museum; which wouldn't dramatize the situation, if not he would be a ridiculous arts thief: He dies out, cuts, sews, pulls little parts from works of art—he takes them for »Art Atoms«.— Does she understand this special approach towards arts? Or has she already called für police meanwhile he thinks of her—an of his collection of Art Atoms. –> –> –> Together with film director Lara Maria Olbeter and FalkFilm-Produktion I prepare the film script for cinema distribution of the narration at the moment – a thrilling new sort of adventure, even so by far not as thrilling as collection Art Atoms.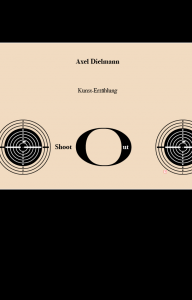 Shoot Out: An artist doing Multiples is driven by the idea of a drawing: The picture that he imagines is that of a shooter aiming at his viewer. However, the life-sized picture will not be scetched with charcoal and pencil—it will be pointed out on a firing range into a pad of paper tall as a man. Now the finished picture is shown in the gun club, and that's where it happens …
The Human Bed (»Das Menschenbett«): Ill to death, Liz, a wealthy collector, had the last wish to be layed onto one of the sculpture of her collection in her second last night: a bed in the form of a human corps, a sort of Procrustean Bed. This is what the widower tells the artist of this certain bed sculptur as they drive to Liz's funeral service together. Both, it seems, try to find out, what art meant to Liz, and especially this work that has its very different connotations for the two quite different men.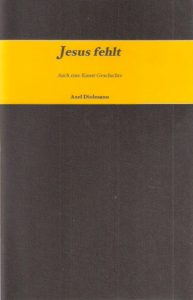 Jesus missing (»Jesus fehlt«): During night times an Unknown in a small town has hammered three long nails into the wall of the Church—the sort of nails that carpenters in some places call »Jesus' nails«. The members of the parish council harshly discuss over the turn of four meetings whether this is art—or is it trash that immediately should be removed?—Inbetween this discussion enfolds the entire history of Pietá and deposition from the cross in arts, offering a totally new scope on clerical arts. In this most stressed situation a new series of »art attacks« meets the House of the Lord.
Boy with a Fairy Tales Book (»Junge mit Märchenbuch«): A collector of modern arts undertakes a last circuit through his collection, starting with Willy Sitte's gouache »Junge mit Märchenbuch«. But on his walkabout our collector is accompanied by a bailiff who came to execute from his collection. Each piece of art now is valued, each bit has its own story. Two views on art clash the could not come out more different.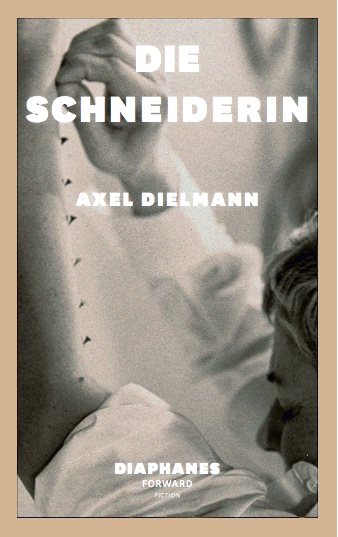 The Dressmaker / Model's Cut (»Die Schneiderin«): A psychotherapist visits an exhibition on Body Art, situated in a historical anatomy's building. He drove there because one of his patiens who cuts herself is expected to be shown in the exhibition with own pieces of body (and) art. Is this why he looks so long and deap to the other work of self-violation in this exhibition—because he expects his patient having done a rather hugh, rather dangerous, in the end mortal injury? That, perhaps, he does not really want to get confronted with?—This therapist is on a very personal track! –> –> –> A longe piece of it was beautifully translated by Michael Turnbull and printed in diaphanes' huge-sized diaphanes-magazine, and you'll find this excerpt HERE. The entire narration was out in March 2019 in the program of diaphanes publishers Zurich and Berlin.

Some Artists that occure in my narrations do appear in more spacy entries; those are written in italics in the list below – a lot more such entries to come:
Marina Abramovic
Laurie Andersen
Nobujoshi Araki
Joannis Avramidis
Franco B
Harald de Bary
Aubrey Beardsley
Josef Beuys
Sandra Blei *
Constantin Brancusi
Coosje van Bruggen
Chris Burden
John Cage
Alexander Calder
Eduardo Chillida
Christo
Paul Claessen
Gustave Courbet
Eimo Cremer
DDV Danny Devos
Denmark
Hans-Jürgen Dietz
Gustave Doré
Felix Droese
Marcel Duchamp
Albrecht Dürer
Diez Eilbacher
Didier Eribon *
Marilena Faraci Stangier
Jean Fautrier
Michael Fehr *
Bernd Fischer
Lucio Fontana
Günther Förg

Alberto Giacometti
Robert Gober
Eileen Gray
Peter Greenaway
Matthias Grünewald
Anatol Herzfeld
Thomas Hildenbrand
William Hunt
Bernd Jansen
Alexej von Jawlensky
Joanna Jones
Jean Jouvenet
William Kentridge
Anselm Kiefer
Chris Kircher
Yves Klein
Peter Knapp
Oskar Kokoschka
Jiri Kolar
Rolf Werner Kunz
Vollrad Kutscher
Rosemary Laing
Filippino Lippi
Mirek Macke
Andrea Mantegna
Piero Manzoni
Harry Mathews
Henri Matisse
Peter McClennan
Henri Michaux
Mircho *
Henry Moore
Gabriel de la Mora
Rabih Mroué
Bruno Munari
Claes Oldenburg
Kira O'Reilly
ORLAN

Camille Paglia *
Gina Pane
Nono Pantelós *
Pjotr Pawlenski
A.R. Penck
Pietro Perugino
Camille Pissarro
Marc Quinn
Tobias Rappel
Andreas Rohrbach
Stefan Rohrer
Mark Rothko
Peter Paul Rubens
Niki de Saint Phalle
Siggi Sander
Ute Schendel
Cornelia Schleime
Jan Schmidt
Thomas Schütte
Vroni Schwegler
Katharina Sieverding
Roman Signer
Willi Sitte
Hans Steinbrenner
Gunta Stölzl
Johannes Stüttgen
Antoní Tápies
Wladimir J. Tatlin
Giandomenico Tiepolo
Jean Tinguely
Johann Tischbein
Ulay
Vitruvius
Andy Warhol
Lambert M. Wintersberger
Jerry Zeniuk
Hans Zimbal
Manfred Zulauf

* kennzeichnet Objekte oder Zitate von Künstlerinnen und Künstlern, die nicht bestätigt sind …
(Back to »Autor«)